Lisbon, the capital city of Portugal, is considered one of the safest cities in Europe. It is known to have one of the lowest crime rates compared to other major European cities like London, Paris, and Rome. According to Numbeo, Lisbon has a crime index of 29.35 and a security index of 70.65. As a country, Portugal itself is considered one of the safest countries in the world according to Global Peace Index.
It garnered an accumulated score of 1.301 and was ranked sixth overall. This assures current and future visitors that they can go wherever they want in the country without worrying about their safety as long as they are careful and well-informed. The locals are also very welcoming, and most of them speak English, so the language barrier is not a major problem.
Lisbon Is Safe But Not Crime-Free

Even if Lisbon is widely considered a safe city, it doesn't automatically mean that no crime or bad incidents happen in every neighborhood. The numbers above just state the fact that major crimes in Lisbon are still occurring but are very seldom. You just have to know which areas are safe and unsafe to avoid becoming a victim of these untoward incidents.
Crimes that happen in Lisbon are also happening in other parts of the world, so being wary and afraid of these incidents within the country is somewhat absurd. Speaking of unsafe places, the majority of these places are located in Lisbon's neighboring cities like Odivelas, Amadora, and Queluz so tourists should plan their trip properly to avoid getting into trouble. 
Notable Unsafe Areas In Lisbon 
The following places have been described as problematic places by both locals and travelers in Lisbon.
1. District Of Portugal Novo
The abandoned district of Portugal Novo, which is located between the Areeiro and Olaias districts, is not a good place to reserve accommodation as this place has some of Lisbon's worst estates. Staying here is also very risky in terms of personal safety. According to a Publico article by Sebastião Almeidain in 2019, the housing project within the said district was built in the 1980s by the Cooperativa de Habitacao Economica Portugal Novo with the approval of the government to help with the housing problems in the city.
It was canceled later on due to financial implications. The houses and buildings here are deteriorating at the moment. It is because they are still the same as they were in the 1980s, and the government has no plans of rehabilitating them anytime soon.
2. Chelas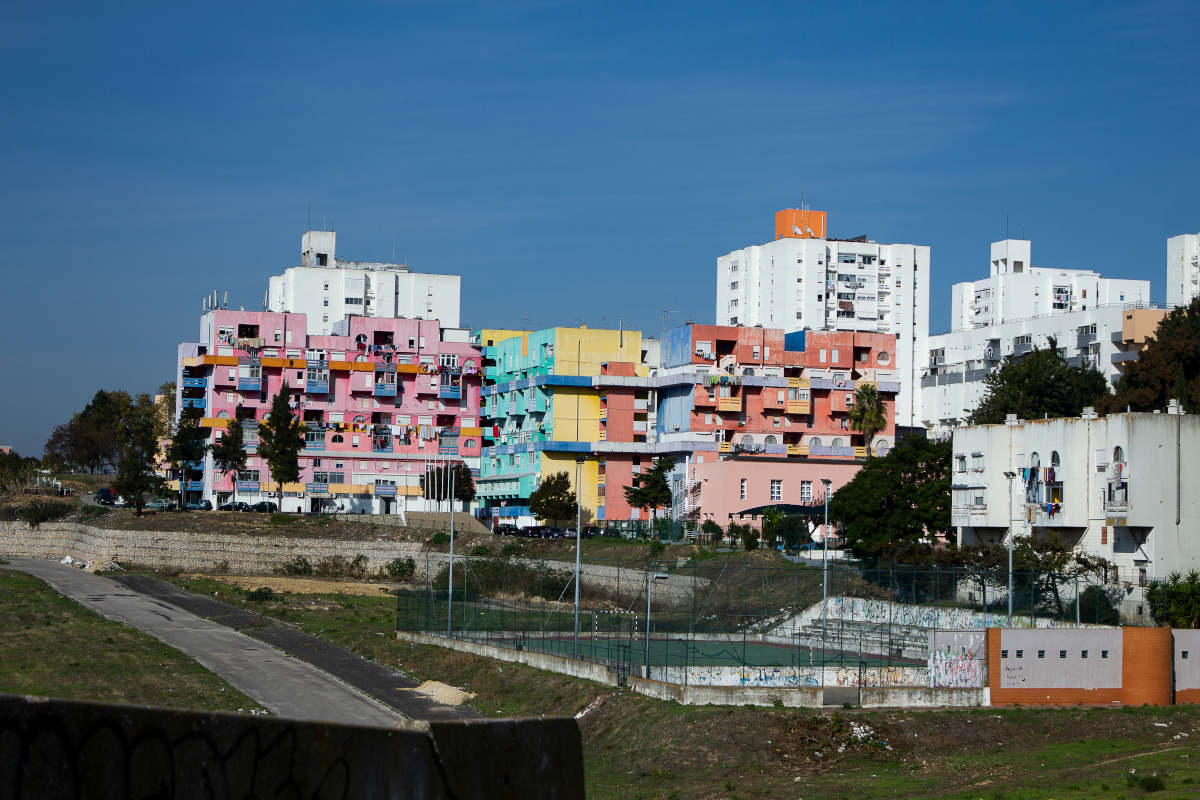 Tourists should also be vigilant when roaming around Chelas, an area located between Avenida Marechal Gomes da Acosta and Avenida Marechal Antonio de Spinola. This is due to some reports of numerous crimes happening in this area, mostly pickpocketing while some escalate into much worse.
Other Unsafe Areas In Lisbon
The traditional immigrant areas in Anjos (along the metro line), Intendente, Mouraria, and Olaias districts are also less safe, so every tourist should be careful roaming around them.
Pickpocket Hotspots In Lisbon
The most prevalent minor crime in Lisbon is pickpocketing which is frequently reported in heavily crowded areas like public transportation, business establishments, and tourist districts. The most known areas where these pickpockets are being reported are tram 15, which connects central Lisbon to the suburb municipality of Alges as well as the popular tram 28, which connects Martim Moniz and Campo Ourique and passes to popular tourist districts in the city.
According to an article by Lisbon Portugal Tourist Guide, these pickpockets are not Portuguese nationals and are often recruited and organized by gangs from Eastern Europe to steal valuables from inattentive tourists. Their appearances are not criminal-like, often dressed in a formal or grandiose way, and they have many gadgets with them to avoid suspicions. Unfortunately, pickpocketing is only considered a minor crime in Lisbon. This means the perpetrators can be released not long after getting arrested. Tourists should always be mindful of their belongings to avoid getting pickpocketed.
Drug Dealers In Lisbon
Another common nuisance to tourists in Lisbon is the appearance of drug dealers who approach people walking on some streets, mostly at night. Many of them can be encountered in the neighborhoods of Baxia and Bario Alto. The majority of these drug dealers, however, are selling fake drugs like dry bay leaves or crushed herbs. This made the dealers unafraid of police detention and openly sell their fake drugs to anyone they see on the street, mostly tourists.
The police would just leave them alone and not apprehend them because their drugs are not genuine anyways. These drug dealers are not harmful and persistent, though, so anyone who encounters them should either ignore them or reject their offer and then walk away immediately. Drug use is also decriminalized in Portugal, so even if some individuals have the real one, chances are they will only be sent to health centers instead of police stations.
Unsafe Areas In Lisbon At Night
When night comes, so are the criminals and some public disturbances. The following neighborhoods are said to be dangerous to roam around at night.

Notable Areas That Are Considered Red Light Districts Of Lisbon
According to numerous articles about the safety of Lisbon during nighttime, a lot of crimes like muggings and theft have been reported in some areas like Anjos, Baxia, Intendente, and Martim Moniz, mostly in the streets and metro lines. These areas also have a reputation close to a red light district or pleasure district, a concentration of prostitution and sex-related businesses. It is slowly getting gentrified though so its reputation will be changed soon and its state of living will be improved.
Cais do Sodré
The busy and crowded Cais do Sodré, a popular nightlife destination in Southern Lisbon, is known to have numerous incidents of theft, assault, and drunk individuals causing trouble in the streets. It is advised not to roam around this area past 1 am due to untoward incidents that will happen during that time.
Other Areas In Lisbon That Are Known To Be Dangerous At Night
Other areas that are considered somewhat problematic at night are the streets and areas of Alfama, Alcântara, Bairro Alto, Graça, Parque Eduardo VII, Parque Florestal de Monsanto, Praça Marquês de Pomba, and Praça do Rossio.
Reminders To Tourists During Night Time In Lisbon

In general, tourists are advised to avoid at night time the dark and quiet areas in Lisbon as they are the areas where perpetrators are usually waiting for their potential victims. They should either stay in their accommodations or hang out in places where there are more people or tourists in them. When they want to drink at bars, they are also advised to drink moderately to avoid getting into trouble with other drinkers. 
Final Thoughts On The Safety Of Travelers  In Lisbon

It is the responsibility of every tourist to ensure their safety wherever they go. Knowing what place is safe and unsafe is the best way to avoid being victims of any crimes in every place they want to be, aside from the proper planning of their itinerary. In case something bad happens during their stay in Lisbon, they should dial 112, an emergency number not exclusive only to the city but most of Europe as well. They can also approach police officers patrolling around or go to police stations immediately to seek help. One police station to remember is the tourist police station located in Palácio Foz in Praça dos Restauradores or Restauradores Square, next to the tourist office. They can be contacted using their contact number +351 21 342 1623. The city of Lisbon, Portugal, is a city with great history and tourist destinations, so anyone will have a great time visiting this amazing place, keeping their safety in check all the time.
SOURCES:

1. https://www.quora.com/What-are-the-good-and-bad-neighborhoods-of-Lisbon
2.  https://www.quora.com/Are-there-Lisbon-districts-which-are-not-safe
3. https://www.youtube.com/watch?v=ifjd7KZGne0 
4. https://travellersworldwide.com/is-portugal-safe/#Avoiding_Bad_Areas 
5. https://www.numbeo.com/crime/in/Lisbon 
6. https://en.wikipedia.org/wiki/Global_Peace_Index 
7. https://www.thebrokebackpacker.com/is-lisbon-safe/ 
8. https://sacavoyage.fr/en/quartiers-a-eviter-a-lisbonne-et-meilleurs-quartiers-ou-loger-pour-visiter/ 
9. https://lisbonlisboaportugal.com/lisbon-tour/is-lisbon-safe-tourist-female-sole-travellers-dangerous.html#:~:text=Areas%20in%20Lisbon%20to%20be,any%20need%20to%20go%20to. 
10. https://www.lisbonportugaltourism.com/crime-safety-and-pickpocketing-in-lisbon.html 
11. https://www.urbanabroad.com/is-lisbon-safe/ 
12. https://lisbonguide.org/dangerous-areas-avoid-lisbon/ 
13. https://www.publico.pt/2019/08/17/local/noticia/bairro-lisboa-novo-so-nome-1883577 
14. https://observador-pt.translate.goog/opiniao/breve-historia-do-bairro-portugal-novo/?_x_tr_sl=pt&_x_tr_tl=en&_x_tr_hl=en&_x_tr_pto=sc